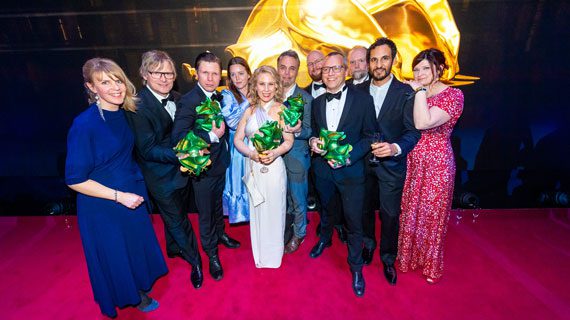 Röda mattan, glimt in i sminket, gala-höjdpunkter, expertutlåtanden och glädjevrål – och alltihop på fem minuter.
På uppdrag av Filminstitutet fick produktionsteamet Fag and the Hag utforska varje hörn av Guldbaggegalan och slutresultatet blev en fin mix av glamour, glädje och sammanfattning av det filmår som gått. Och en rörelse framåt mot filmåret 2019!
Se filmen:
Nedan har vi också samlat alla våra korta galaklipp – massor med känslor och stämning på bara 60 sekunder:
Vinnarna
Emma Molin – kvällens konferencier
Hedersguldbaggen till Yvonne Lombard
Vinnarna i Bästa skådespelarkategorierna
Vinnaren av Bästa regi – Carl Javér, Rekonstruktion Utöya
Vem vill du skåla med?
Bästa galareceptet med Mark Levengood
Hur känns det att vara nominerad?
Vinnare av Bästa kortfilm – Ahmed Abdullahi, Martyren
Vinnare av Bästa kvinnliga huvudroll – Eva Melander, Gräns
Vinnare av Bästa manliga huvudroll – Joakim Sällquist, Goliat
Vinnare av Bästa kvinnliga biroll – Lena Nilsson, Videomannen
Vinnare av Bästa manliga biroll – Eero Milonoff, Gräns