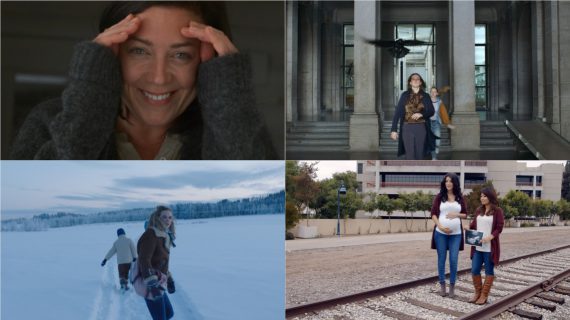 Mamma, morsa, moder. Att bli och att vara. Genom att bära och sedan ge bort. Genom att kriga med alla medel för att få behålla. Genom ett sjukdomskaos, där allt tappas bort utom kärleken till en dotter. Och slutligen att, efter den största förlusten av alla, få fortsätta vara, för evigt. 
Vi har letat gemensamma nämnare i årets nomineringsbara filmer och hittat flera stycken. Nu presenterar vi alla 39 titlar i nio teman som vart och ett förmedlar en del av ett filmår som, trots alla motgångar, blev ganska fantastiskt.
Se alla trailrar och handlingsbeskrivningar i temat:
Charter
Regi: Amanda Kernell
Manus: Amanda Kernell
Producent: Lars G Lindström och Eva Åkergren
Alice inser att hon kommer att förlora sin pågående vårdnadstvist. Hon beslutar sig för att föra bort sina två barn och ta med dem på en charterresa, som ett sista försök att vinna tillbaka dem.

For Somebody Else 
Regi: Sven Blume
Manus: Sven Blume
Producent: Margareta Jangård
Surrogatmödraskap är förbjudet i Sverige och många andra länder, men i Kalifornien är företeelsen en växande industri. I For Somebody Else möter vi tre kvinnor som av skiftande anledningar valt att bära och föda andras barn. Regissören Sven Blume följer dem i vardagen; innan, under och efter graviditeten och låter dem själva formulera och reflektera över sina val. Resultatet är en tankeväckande och närgången dokumentär om prövningarna och riskerna, men även om tillfredsställelsen och glädjen de upplever.

Psykos i Stockholm
Regi: Maria Bäck
Manus: Maria Bäck
Producent: Anna-Maria Kantarius
En mamma och hennes dotter är på väg till Stockholm för att fira dotterns 14-års dag. Redan på tåget börjar mamman uppföra sig konstigt och dottern befarar att ännu en psykos är på väg att ta hennes mamma i besittning. Trots tecknen försöker de genomföra semestern som planerat. När mammans tillstånd upptrappas blir dottern lämnad ensam och får utforska Stockholm på egen hand under några ensamma magiska dagar och nätter.

The Average Color of the Universe
Regi: Alexandra-Therese Keining
Manus: Alexandra-Therese Keining
Producent: Alexandra-Therese Keining
I en tillvaro hårt präglad av förlust befinner sig en kvinna i gränslandet mellan det förflutna och verkligheten. Isolerad men omgiven av naturens kretslopp flimrar minnesfragmenten förbi och livet ter sig likt ett stillastående vakuum. Gränserna för tid och rum har suddats ut men i universums oändlighet och människans litenhet finner hon ändå tröst.