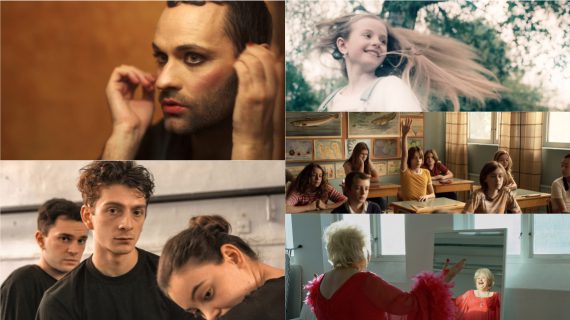 Dans, ståupp, musikal och opera. Det svenska filmåret 2019 har gott om rollfigurer som bjuder på sig själva från livets olika scener. Här finns både underhållning, drömmar och personliga historier om modiga livsval.
And Then We Danced, Sveriges Oscarsbidrag, är ett svettstänkande tåspinnande drama om förbjuden passion och en kärlek till både georgisk dans och danspartners.
I En komikers uppväxt lever tolvåriga Juha i en värld av hierarkier och mobbing. Som vuxen funderar han från scenkanten – kanske är det dags att göra upp med några gamla oförätter.
A Music Story följer 11-åriga Moa som älskar att sjunga och drömmer om att få ta plats på scen, precis som sin pappa.
Siv Wennberg är ett unikum i svensk opera. Dokumentären Sivandivan visar en personlighet som charmar vissa i sin omgivning men samtidigt försvårar sina möjligheter att stå på scen.
Lindy mobbades som barn och flydde in i en fantasi där han var superhjälten Little Light. Lindy the Return of Little Light berättar om en hyllad skådespelare och artist som bjuds in av Maxim Gorki-teatern i Berlin för att berätta sin egen historia från scen.
And Then We Danced
Regi: Levan Akin
Manus: Levan Akin
Producent: Mathilde Dedye
En komikers uppväxt
Regi: Rojda Sekersöz
Manus: Jonas Gardell
Producent: Martin Persson
A Music Story
Regi: Anna Maria Jóakimsdóttir Hutri, Roger Westberg och Anders Widmark.
Manus: Anders Widmark och Anna Maria Jóakimsdóttir Hutri
Producent: Lars Pettersson och Maria Wande
Sivandivan
Regi: Emelie Jönsson och Gustav Ahlgren
Manus: Emelie Jönsson och Gustav Ahlgren
Producent: Emelie Jönsson, Gustav Ahlgren och Daniel Pynnönen
Lindy the Return of Little Light
Regi: Ida Persson Lännerberg
Manus: China Åhlander
Producent: Ida Persson Lännerberg, Katinka Bröms och China Åhlander