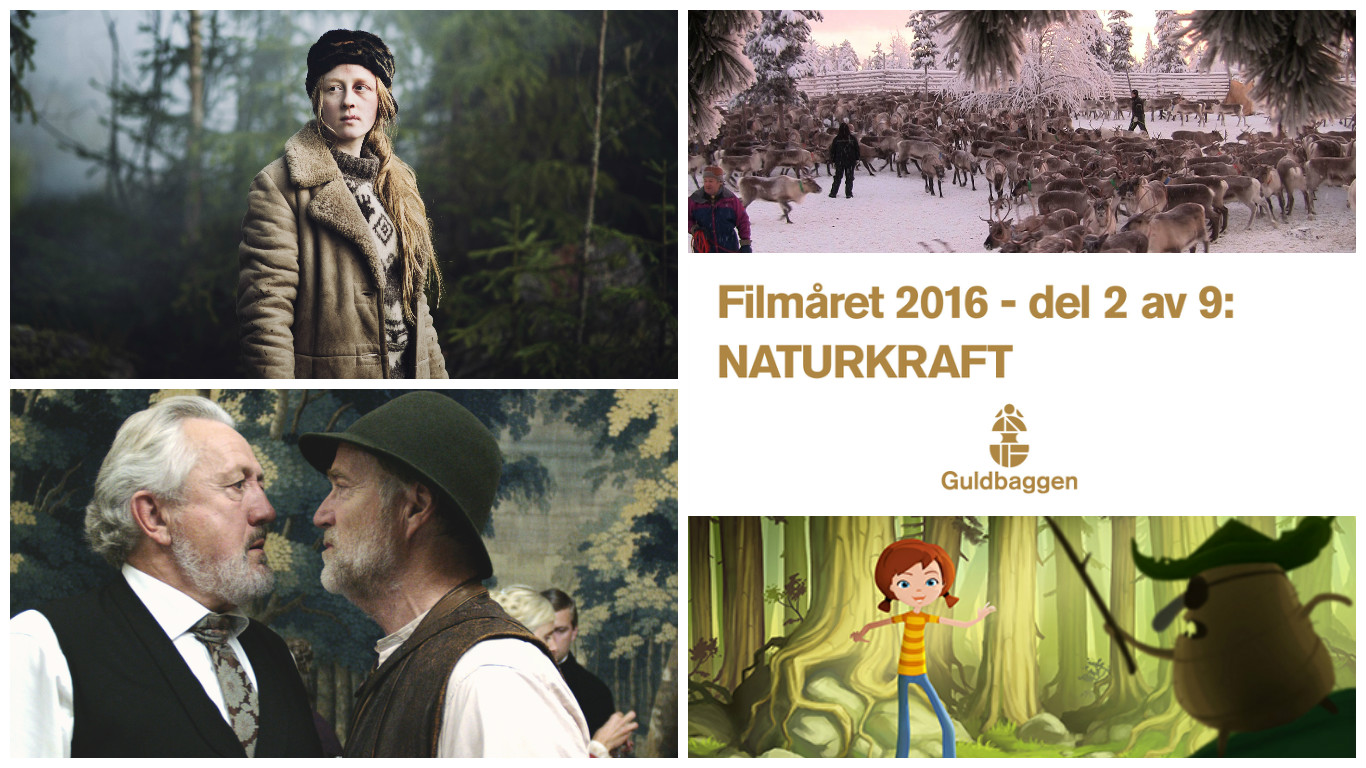 Den sista generationen, Granny's Dancing on the Table, Tjuvjägaren och Lea och skogspiraterna är filmer som på väldigt olika sätt berör relationen mellan människan och naturen.
En natur som kan vara vild och överraskande, skyddande och ogenomtränglig, en påminnelse om hur det var från början, eller en isolerad plats att fly till. Hur påverkas vi av omgivningen, hur anpassar vi oss till den och hur förändrar den villkoren för våra liv?
Vi har samlat ihop filmerna under ett tema vi döpt till Naturkraft men låter dem även få komma till tals var och en för sig, här nedan.
Lea och skogspiraterna
Maria Avramova
Premiär: 26 februari 2016
En ung tjej övervinner sin rädsla för skogen och ger sig ut för att hitta sin försvunna bror. På sin resa möter hon märkliga varelser, hittar äkta vänner och får hem sin bror.
Den sista generationen?
Petri Storlöpare
Premiär: 6 mars 2016
Henrik Andersson från Gällivare skogssameby delar med sig av sina tankar och erfarenheter under ett år. Hur är livet som renskötande same i dagens Sverige? Vilka är de dagliga problemen och framtida hoten? Hur långt är det möjligt att leva som på gamla tider?
Granny´s Dancing on the Table
Hanna Sköld
Premiär: 8 mars 2016
Eini är 13 år och bor djupt inne i skogen tillsammans med sin far. Han är en våldsam man, rädd för världen och håller Eini i ett järngrepp. För att stå ut tar hon sin tillflykt till fantasin och historierna om farmor, rebellen som bröt sig loss och levde sitt eget liv.
Tjuvjägaren
John Tornblad
Premiär: 29 oktober 2016
Den asociala vildmannen Lasse bryter sig loss från samhället och bosätter sig i en egenbyggd grotta med sin fru Inga. När Lasse tvingas tjuvjaga på baronens mark påbörjas en våldsam konflikt där Lasse riskerar att förlora allt. Tjuvjägaren är en verklighetsinspirerad David mot Goliat-historia i svenskt 1890-tal om enstöringens kamp mot överheten.